Breakfast & After School Clubs
Breakfast Club and After School Club is lead by Norbury Manor Primary School Staff.
Our vision of the Norbury manor Primary school as a 'Community School' extends beyond the school day and we believe it is essential for Norbury Manor Primary school to provide an extended day for all pupils to support our community. Norbury Manor Primary School provides before and after school activities to cater for children of families who need care before and/or after the usual school hours. Our staff offer a range of indoor and outdoor activities, giving the children a variety of experiences design to support their age-appropriate development, sense of well-being and independence.
The safety of pupils is our priority while they are in our care at school. Norbury Manor Primary School is committed to safeguarding and promoting the welfare of children and young people and expects all staff and volunteers to share this commitment. We aim to promote equality of opportunity and a positive attitude to all pupils and staff.
The Breakfast and After School clubs provide quality wrap-around care for pupils at Norbury Manor Primary School. It aims to:
Support parents by providing before and after school childcare from 7:30 am until 8:50 and from 3:15 pm until 6:15 pm respectively.
Provide planned play activities
Offer the children breakfast each morning and a light snack at the end of the school day in a safe and friendly environment.
Encourage children to develop friendships between age groups and work together co-operatively.
Admissions
Initial Admission Process
The Governing Body of the school is responsible for the admissions to the Breakfast and Afterschool Clubs. Parents do not have a statutory right to appeal to an independent panel concerning Club admissions so it is essential that all admission decisions can be justified by reference to the criteria outlined in this policy. Places are allocated on a first-come, first-served basis. Registration forms are available from the school office and our website.
The school will hold a waiting list of applicants that have been unsuccessful. Those on the waiting list will be listed in rank order in relation to the criteria. Should places become available during term time, then places will be offered in accordance with the child's position on the waiting list.
The School will consider applications in accordance with the following criteria:
Children already attending club (subject to a registration closing date)
All children of working parents and careers requiring full-time care on a regular basis for three or more days per week.
All children of working parents and carers requiring full-time care on a regular basis for one or two more days per week
All children whose parents need care arrangements regularly each week
Date/time that the school received an application
Children from Year R to Year 6, who attend Norbury Manor Primary School, are eligible to participate in these clubs. The best interests of children are always taken into account if it is felt that children, particularly those under the age of five, are not ready to be in the school environment for an extended period, this will be discussed with parents, and a place may not be offered or withdrawn. All applications will be reviewed at the discretion of the Headteacher.
Admission is conditional on the following undertakings by the parent/guardian
Fees are promptly paid in advance

T

he behaviour of the child is accepted for the safe and efficient running of the club.

School policies, including the Behaviour Policy, apply in the same way as they do during the main school day.

Children are suitably toilet trained and able to toilet themselves.
We reserve the right to refuse a child indefinitely or for a fixed period of time if they fail to meet these standards either through a single severe incident or repeated actions that put themselves or other children at risk of harm.
Bookings and Payment
All fees are payable in advance and are non-refundable.
The cost of each Breakfast Club session, from 7:30, am until school starts at 8:50 am, is £4.00 in advance.
The cost of each After School Club session is:
•

£6.00 per child when attending between 3:15 pm – 4:15 pm

•

£12.00 per child when attending between 3:15 pm – 5:15 pm
•

£15.00 per child when attending between 3:15 pm – 6:15 pm
Failure to pay on time will result in the withdrawal of a place at the club and possible reallocation of the place to a child on the waiting list. Please ensure that payment and bookings are made in advance via MCAS.
Parents/guardians also need to complete a registration form. Please indicate on the form the days you will require Breakfast and After School Club as well as your child's dietary requirements, medical and other needs. Parent/guardian contact details are also needed.
These fees are subject to change, with a term notice to be given of any changes.
Breakfast Club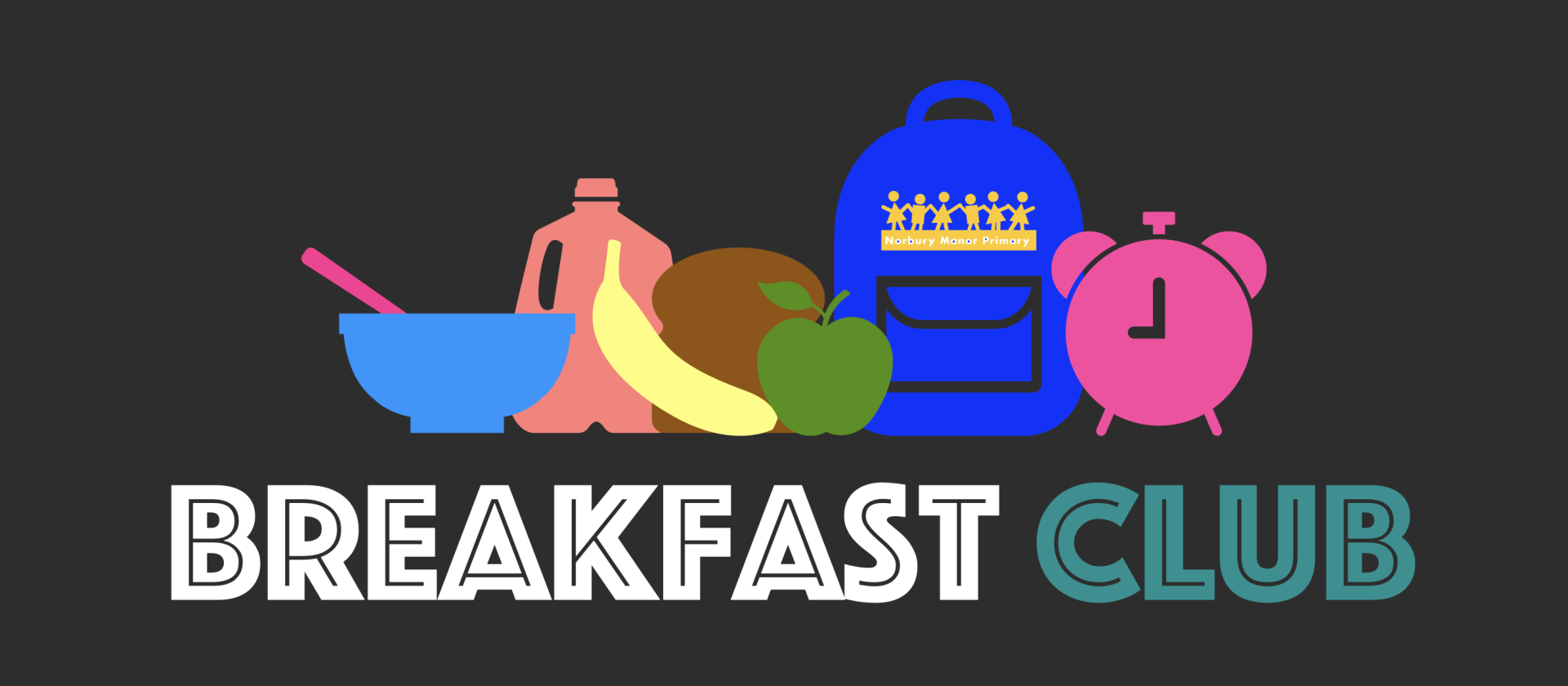 Our before school club is available for all Norbury Manor Primary pupils from year R- year 6. It operates between 7:30 am, and 8:50 am. Children attending breakfast club must be signed in. Children in Reception, year 1, year two must be signed in by their parents. Children in years 3, 4, 5 and 6 can sign themselves in, with prior permission from their parents.
Children will be offered a breakfast of:
A selection of cereals

Toast with different spreads
Yoghurt and Fruit
Hot and cold drinks
There will be a range of activities available. Infant children will be walked to class by club staff; junior children walk to their rooms themselves. A member of the school staff is on duty during this time every morning.
After School Club
This session is available to all children from year R- year 6 (see note in admission criteria). It operates from 3:15pm - 6:15pm. There will be a range of activities available – including the time to complete homework. A snack will be provided to the children as part of the price.
Children can only be collected by their parent (s) or by an adult (over 16) who the parent has authorised to receive. If a child is collected by someone unauthorised, the parent will be contacted to check whether the person can collect the child or not. If the parent cannot be contacted, then the child will not be permitted to leave the building with the unauthorised person. Children should be collected from the Lunch hall.
After school charges are based on the time, the pupil leaves the club. An example is below.
Child A was collected at 4:00 pm from After School Club on Monday, Tuesday and Wednesday and was charged £6.00 per day. However, on Thursday Child A was collected at 4:45 pm, so Child A was billed £12.00 on that day. On Friday Child A was collected at 4:25 pm and was charged £6.00 for that day. In total Child, A was billed £36.00 for the entire week for After School Club.

Child B attended Dodgeball club, which cost £6.00 per session. After Dodgeball, Child B stayed at Afterschool Club until 5:30 pm. Child B was charged £6.00 for Dodgeball club and £6.00 for After School club. In total Child, B was charged £12.00.

Child C attended Yoga Club on Thursday, which is a free (£0.00). After Yoga club Child C attended After School club and was collected at 6:00 pm. Child C was charged £12.00 on that day.
Parents/guardians are not charged for the first hour of after school club (£6.00) when a pupil attends another club held at Norbury Manor Primary School.
After School Club Activities
Monday - Chicken and Garden Time (not during winter season), Multisports
Tuesday - Music, BFree Girls Football*
Wednesday - We Games/ Just Dance, BFree Dodgeball*
Thursday - Computing (Reading Eggs and Mathletics)
Friday - Movie Night (once a month Cooking Club), Art Club
* Additional cost for activity.
Inclusion
Our clubs are fully inclusive, and all children are encouraged to participate in extracurricular activities. If a child has special or medical needs, the information will be shared with the Club Leader, and any necessary arrangements agreed.
Feedback
To ensure we continue to offer high quality and relevant range of break club and after -school club, we encourage parents/guardians to complete a short questionnaire at the end of each term. All feedback will be carefully considered and taken into account when decisions are made about clubs' provision for the next term.
If parents/guardians are concerned about any aspect of an after-school club, they should talk to the Club manager (Ms Sheerkhan) or the Headteacher.
Breakfast Club and After School Club Policy & Admission Form
Breakfast Club and After School Club Policy
Breakfast Club and After School Club Registration Form